The Chessvision.ai eBook Reader has just reached 10k users and that's a huge milestone.
It was the first product with premium features I launched and that really boosted my confidence that Chessvision.ai can be much more than just a simple scanning tool. I'm really happy that so many people find value in it and constantly talk to me about new features and improvements that we together can bring to life.
I thought that reaching this 10k milestone is a good time to reflect a bit and write down where and how it started, what features were added in the process, and what's the plan for the feature.
Here's the current number of 10,040 users along with some reviews: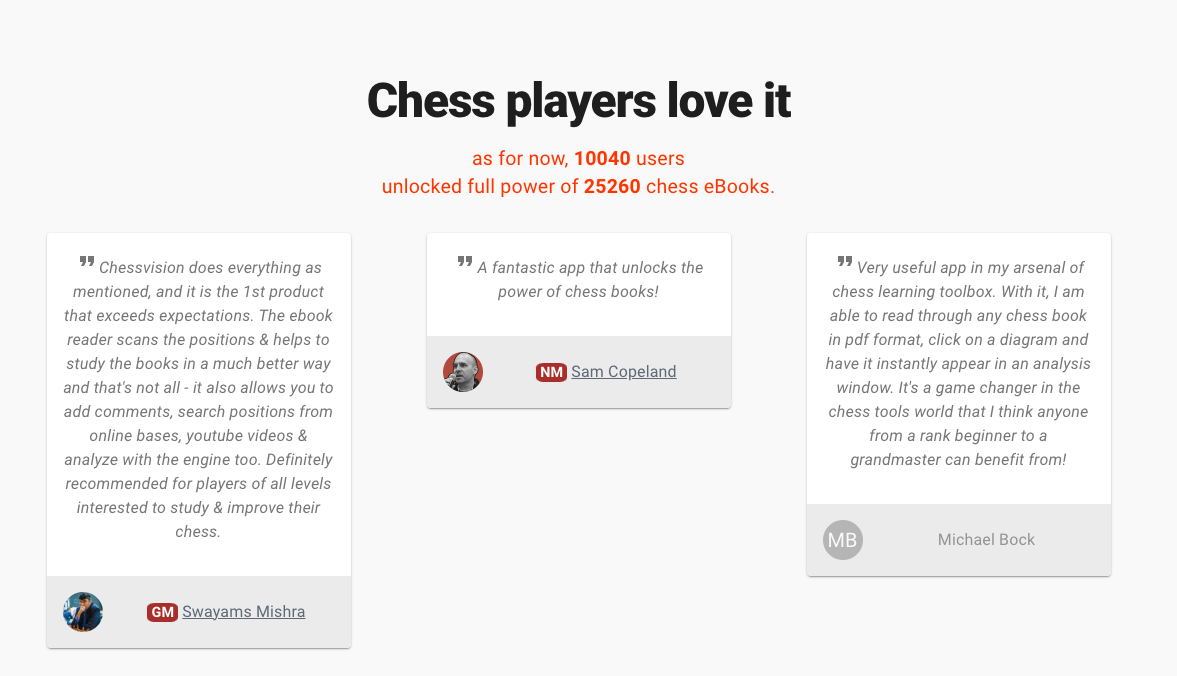 How the idea was born​
It all started with my post describing the idea of making any chess ebook interactive and asking if there is any demand for such a product.
The comments provided many good insights and I got the impression that it's at least worth building an MVP and testing the real demand, so I started coding. The idea of trying new things, especially experimental ones that nobody else tried, and bringing these ideas to life excites me much so this was great fun.
Beta phase​
As soon as I had the first version I wrote a post inviting anyone to the Beta Testing phase. It ended up in around 50 people with access and lasted 2 weeks. I collected the feedback using a simple Google Forms survey and organized it. I also needed to add payment processing and some other things so started coding again.
Launch​
Everything was ready in January 2020 so I announced it in this launch post. The reception exceeded my expectations. People praised how well the idea was executed and suggested great features they'd like to see there. The Reader was my first premium consumer app and I remember it was a great feeling when the first users upgraded their accounts to premium - I knew I build something that brings real value to them. I also remember the first Grandmaster that purchased the premium membership and the first popular chess streamer that did that.
Evolution​
The Reader has come a long way from the beta phase up to its current state. There were some major steps along the way, like adding important new features, receiving publicity, and so on. I will highlight some of these steps that made the biggest impact.
Award-winning app​
In December 2020 I was invited to take part in the London Chess Conference: to give a talk in the Data Science section and also to participate in the Best Chess Startup competition. I remember that for some reason I cannot explain now, I wasn't totally sure about whether to take part in the competition but eventually decided to do it and it was totally worth it. I applied with the Reader app. First, there was a closed elimination phase and I qualified to the finals where 5 participants presented their products to the audience that later voted for the best one. It turned out that people liked the Reader the best and we won the competition. I was really happy about it and it also gave the Reader much publicity so new people got to know about it. I guess a lesson from that is to take chances when they show up.
Increasing availability​
One of the most important things that contributed to the growth was making the Reader available to as many users as possible. It started with support for PDF files on desktop devices, so that was a limitation. Two crucial things I did were:
Making it mobile friendly - all views adapted for smartphones and tablets. Just open the app in a browser on your mobile device. All documents are synced across the devices and you can always access them from the My Documents page.
Adding support for ePub and DjVu formats - besides PDF the reader supports both ePub and DjVu formats. It automatically converts them to PDF during processing.
Added features​
Since the launch, I've added many new features that made the Reader a really comprehensive and unique product. Describing the process of implementing every single one would result in a massive read so here's the list of new features along with their short description:
Study Creator - You can select diagrams from books and export them directly to Lichess Studies - video

Cloud Storage - You can open each analyzed eBook directly from the App, like in cloud storage. Just go to the My Documents page and click the "Open" button near the book you want to open. It gives you access to your eBooks across all your devices - video

Game Finder - Each time you open a diagram for analysis, the app searches for games where the position from the diagram occurred and if it finds any, then it gives you a link to these games.
Video search - it automatically searches YouTube videos matching the diagrams in your books and plays them exactly from the time where the position from the diagram is shown - video

Create Studies in PGN or PDF - in the Study Creator feature you select diagrams from books and export them to PGN or a PDF sheet. Especially useful for teachers to prepare exercises for students - video
Diagram Search - quickly search diagrams in your books using various filters and themes to find the ones you're looking for. For example, set filters to king and pawn endgames and it will show all such diagrams in your books with links to them - video

Comments to diagrams - you can add your own comments to diagrams, just like your own annotations
Feature plans​
There are still a few important features I want to add to the Reader. The most important ones at the moment are:
Bookmarks - add the ability to add your own bookmarks to pages or diagrams in books so that you can easily find them later, even browser all your bookmarks across all books in your collection.

Notation parsing - the ability to recognize chess notation from books and add interaction to it so that you easily follow moves described in a book and jump from one position to another quickly.
I hope to work on them soon so the Reader can become even better.
Conclusion​
After these two and a half years I'm confident enough to say that the Reader is the best product for people who own their chess books in digital formats - PDF, ePub, DjVu - It took a lot of effort to reach that point but it was totally worth it and I'm very excited for the future and further development.
If you haven't tried the Reader yet, I definitely recommend it Chessvision.ai eBook Reader.